Industrial Services
Work Conditioning
This program concentrates on the general, overall conditioning and functional abilities of the individual and does not include job simulation. The Work Conditioning Program is an individualized conditioning program designed to decrease symptomatology and increase functional abilities following a period of debilitation. This is accomplished by improving the participant's overall conditioning with a goal of increasing muscular strength, cardiovascular endurance, and flexibility.
The program length averages 2 to 4 weeks for 2-4 hours per session.
Work Hardening
The philosophy of the Work Hardening Program at IWR Therapy Systems is to increase functional and work activity to an individual's maximum potential while minimizing the symptom response to activity such as pain and fatigue. This individual treatment program is designed to maximize an injured worker's ability to re-enter the work place as quickly and safely as possible.
Following completion of the program, the individual is returned to the primary treating physician for return to work clearance. In order to be recommended for return to work, the individual must demonstrate:
The physical ability to do the job
The ability to do the job safely
The motivation and confidence to do the job
The Work Hardening program averages 3 to 4 weeks. The participant progresses to an 8 hour day and a 40 hour work week. Individuals usually begin the program at 2 hours per day. Progression to 4 hours, then to 6 hours and then to an 8 hour work day is based on the participant's progress and the overall rehabilitation strategy.
Work Site Ergonomic Services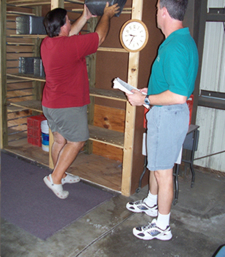 Ergonomic Assessments to analyze and improve the fit between worker and workstation, instruction in safe work techniques and evaluation of tools, equipment and adaptive devices.
Ergonomic Job Analysis to document job requirements and assess degree of risk associated with developing cumulative trauma disorders.
Development of Ergonomics Programs and Processes, including training materials, ergonomics job descriptions for return-to-work, employee ergonomics training, etc.
Pre-Placement Screening
ADA/EEOC compliant physical abilities testing programs are designed for employers for the purposes of making objective and legally defensible hiring decisions based on an applicant's ability to perform the essential functions of the job. This program has been validated through prospective validation studies and typically results in reductions of 20-40% in new hire worker's compensation injuries. For more information on our Pre-Placement testing programs, please contact our Industrial Department at (251)433-1414.