Rehabilitation Services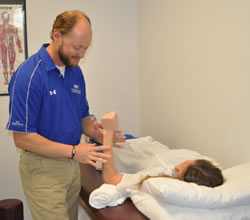 Physical & Occupational Therapy
Injury and illness can take a toll on the body's strength and agility. Physical therapy services center around the restoration of function to an area of injury through the use of appropriate modalities, exercise, and other therapeutic techniques. The staff at IWR Therapy Systems promotes early intervention after injury. The focus is on symptom management and restoration of function, establishing a sound basis for an early, safe and efficient return to work, and/or normal living activities.
Treatment begins after a thorough physical assessment to determine an appropriate program for the diagnosis and current physical findings. The physical therapist sends an initial assessment report with a treatment plan to the patient's referring doctor and follows with progress notes to keep the doctor apprised of the patient's improvement.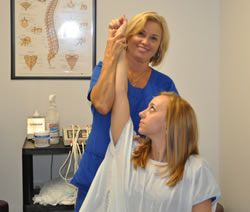 The patient and the physical therapist review progress at each appointment in order to make necessary advancements to treatment and home programs. Our therapists emphasize patient participation and follow-through, and focus on techniques that allow your rehabilitation to proceed at a desired pace.
We offer therapy for individuals with:
Spine problems, chronic and acute
Degenerative joint disease
Work-related injuries
Orthopaedic and sports injuries
Chronic pain
Neurological conditions or impairments
Arthritis / Fibromyalgia
Hand and elbow injuries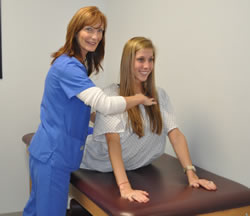 Services include but not limited to:
Comprehensive Orthopaedic Physical Rehabilitation / Sports Injuries
Neurological Assessment of Central and Peripheral Systems
Back Care and Education
Cervical / Lumbar Traction
Gait Training
Balance Coordination and Training
Scar Mobilization
Flexibility Exercises
Individualized Strengthening Exercises
Iontophoresis
Phonophoresis
Ultrasound
Joint Mobilization
Home Exercise Program
Electrical Stimulation
Manual Therapy
Fluidotherapy
Custom Splint Fabrication